The 2015 H. B. Beal Summer School staff and student raised $400 during their multicultural day celebration held on the school ground on Wednesday. July 23. Students gathered to share foods from different cultures and listened to music from several cultures complement of Mr. R. Andrews, the summer school supervisor.
H.B. Beal students from Mrs. Liz Akano's BOG4E1 Business Leadership class have donated the proceeds from their Apprenticeship Challenge (over $400) to help fellow students on the other side of the world.
Through the charitable organization Educate the Children, the Beal students are helping to provide infrastructure, learning materials, school uniforms, and scholarships to students in rural Nigeria.
Educate The Children recently launched a "Children Helping Children" campaign in schools across the Valley, and will extend the campaign to the Catholic Board in early 2011.
On hand as the students presented their check to VP of the board of Educate the Children, Ken Williams, were Beal Principal Mr. Don Macpherson, proud teacher Mrs. Akano, and London Fanshawe MPP Mr. Khalil Ramal.
---
Regina Mundi College Girls' Basketball Team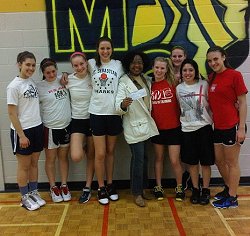 During the recent Basketball Tournament at Regina Mundi College, the girls decided to donate all money raised from concession sales to Educate the Children. This is to support our effort to provide better school facilities in rural Nigeria.
Under the leadership of Coach Phil Swan, the girl's raised a total of $500 and presented the check to Liz Akano, Chair of Educate the Children.